General Appointment
Dr. Andrew Higgs
Orthopaedic Surgeon
For all clinic appointments and enquiries, please call (02) 8382-6905 or click to request an appointment online.
We are happy to hear from you. Please contact us using the information below:
Level 9
Suite 901
438 Victoria Street
Darlinghurst NSW 2010
Click here for driving directions and location map.
Parking Details
Parking is available in St Vincent's Clinic. Enter the car park from Barcom Street at the back of the Clinic and take the elevator to level 9. Dr Higgs's office is on this level.
Parking is also available in St Vincent's Private Hospital. The entrance is also on Barcom Street, next to the Clinic car park entrance.
Macquarie University Orthopaedics Macquarie University Clinic
Suite 303,
Level 3/2 Technology Place,
Macquarie University, NSW, 2109
Click here for driving directions and location map.
Travel Information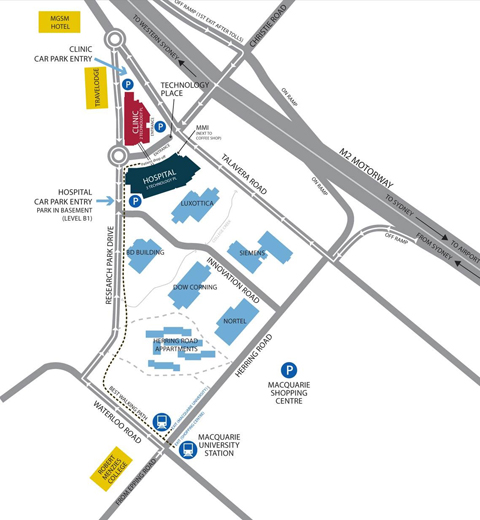 Click Here To View Enlarged Image
The hospital is situated in the centre of the Macquarie Park technology hub, and conveniently placed near the new Macquarie University train station.
Located opposite the Macquarie Park Shopping Centre
Just 25 minutes drive from the Sydney CBD
40 minutes to Sydney airport
500 metre walk from the North Ryde Bus interchange
The address is 3 Technology Place, Macquarie University, NSW 2109.
Please note although our location is Macquarie University, if you are using a GPS you may need to enter the suburb as Macquarie Park or North Ryde.
Directions for Public Transport
Plan your trip and find the best route to Macquarie University Hospital for you, click here to go to 131500.com.au, the best transport site for people on the move in New South Wales.
Travel Information – Northern Beaches
For information on driving times or travel by public transport to and from the Northern Beaches, please click here.
Parking information and charges
Parking is available for visitors and patients in the marked bays at the front of the Clinic Building or in the secure basement car park under the hospital (off Research Park Drive). Parking charges apply – please see below.
Daily: $4 for the first hour and $2 each hour thereafter – maximum of $20 per day to 12pm midnight. If your car is left in the car park overnight please note standard rates commence from midnight plus an additional $5 fee applies.
Weekly parking ticket: $60 per week plus $20 deposit for a security parking card which will be refunded to you on return.
Radiation oncology patients: $50 for the course of treatment up to six weeks plus $20 deposit for a security parking card which will be refunded to you on return.
Please note all long term parking rates can be arranged by visiting reception. Reception hours are 6am to 8pm Monday to Friday and 7am to 8pm on Saturday and Sunday.
Where to go once you arrive at the hospital
If you are unsure of where to go once you arrive at the hospital, you will find a electronic interactive map called a kiosk located at the front entrance. Alternatively you can ask for assistance at the main reception.
The Mater Clinic
Suite 1.08
Mater Clinic, Level 1 3-9 Gillies St
North Sydney NSW 2060
Click here for driving directions and location map.
Click here for Transport & Parking Information.
Tel: (02) 8382-6905
Fax: (02) 8580-4773
E-mail: info@orthopaedicsurgeon.com.au
Website: www.orthopaedicsurgeon.com.au
We are on
Facebook, click here to find out more.
We are open Monday to Friday (except Holidays) between 0830 to 1700 Hours. As a Specialist clinic, patients need a referral from their General Practitioner.
Please arrive 10-15 minutes early for your Appointment for registration and to fill in a health questionnaire.
When you come for your appointment please remember to obtain and bring the following
Referral letter from GP, family physician or other doctor
Medicare card, DVA card, pension card
Have your Private Hospital Insurance information with you
Reports, X-rays, MRI's, CT scans etc and any other relevant information
To cancel an Appointment
Telephone the office during business hours and allow at least 1 day's notice so that we can offer your appointment time to patients on our waiting list.
We recognise that your time is valuable, and we make every effort to run on time. Occasionally emergencies or patients require a little more time, and these cause scheduling delays beyond our control. We apologise if we keep you waiting.