Dr Andrew Higgs
(MBBS, MSc, FRACS, FAOrthA)
Orthopaedic Surgeon
For all appointments & enquiries, please call or click to request an appointment online.
We are happy to hear from you. Please contact us using the information below:
Book Online - St Vincent's Clinic

Book Online - The Mater Clinic
St Vincent's Clinic
Level 9
Suite 901
438 Victoria Street
Darlinghurst, NSW 2010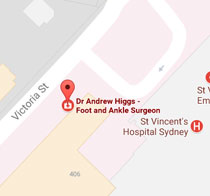 The Mater Clinic
Level 1
Suite 1.18
3-9 Gillies Street
North Sydney, NSW 2060
Click here for Transport & Parking Information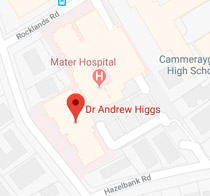 Please arrive 10-15 minutes early for your Appointment for registration and to fill in a health questionnaire.
When you come for your Appointments, please remember to bring the following
Your Referral from your GP, local doctor or specialist.
X-rays, MRI scans or other images you may have (not just the report)
Medicare card
Private Health Insurance Details
info@orthopaedicsurgeon.com.au

(02) 8580-4773

www.orthopaedicsurgeon.com.au
We are open Monday to Friday (except Holidays) between 0830 to 1700 Hours. As a Specialist clinic, patients need a referral from their General Practitioner.